Pinedale has been a vacation destination for many families for over 70 years.
Located halfway between Crosslake and Pequot Lakes, Minnesota, the cabins sit on the south shore of Pig Lake to view Whitefish Lake to the north

As you travel the lane and approach the cabins; stress of the city hubbub and everyday tensions are left behind. The quiet, secluded compound of cabins provide a variety of opportunities for everyone's idea of a vacation; whether relaxing on the beach, reading, walks, bird watching, floating in the water, fishing, boating or other water activities.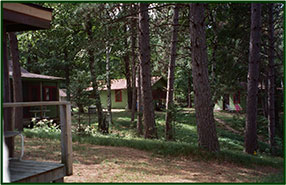 Each cabin has a modern kitchen and comfortable living area. A picnic table and charcoal grill are at each cabin, or have a picnic lunch on the beach.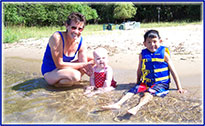 Large, sandy beach for sunbathing, volleyball, badminton or creative sandcastles. The swimming area has a nice sandy, gradual slope and is separate from the boat docks.
Sorry, for the peace and quiet of our guests,
we do not allow pets or personal watercraft (i.e. Jet Ski's).

Pinedale
35697 Pinedale Lane
Pequot Lakes, MN 56472